According to the Two Factor Theory of Frederick Herzberg people are influenced by two factors. Satisfaction and psychological growth was a factor of motivation factors. Dissatisfaction was a result of hygiene factors. Herzberg developed this motivation theory during his investigation of 200 accountants and engineers in the USA.
- Hygiene factors are needed to ensure an employee does not become dissatisfied. They do not lead to higher levels of motivation, but without them there is dissatisfaction.
- Motivation factors are needed in order to motivate an employee into higher performance. These factors result from internal generators in employees.
Typical Hygiene Factors are: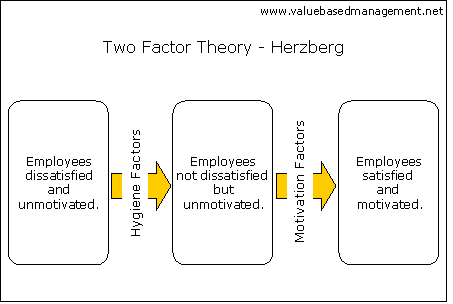 Typical Motivation Factors include:
Achievement

Recognition for achievement

Responsibility for task

Interest in the job

Advancement to higher level tasks

Growth
Combining the hygiene and motivation factors results in four scenario's:
High Hygiene + High Motivation: The ideal situation where employees are highly motivated and have few complaints.

High Hygiene + Low Motivation: Employees have few complaints but are not highly motivated. The job is perceived as a paycheck.

Low Hygiene + High Motivation: Employees are motivated but have a lot of complaints. A situation where the job is exciting and challenging but salaries and work conditions are not up to par.

Low Hygiene + Low Motivation: The worst situation. Unmotivated employees with lots of complaints.
Herzberg suggests that often work can and should be arranged in the following ways:
- job enlargement
- job rotation, and/or
- job enrichment.
Besides The Two Factor Theory, Frederick Herzberg is also known sometimes for his acronym KITA, which has been politely translated as a kick in the pants! Herzberg said that KITA does not produce motivation but only movement.
T I P : Here you can discuss and learn a lot more about human motivation and the 2 Factor Theory.
Compare: Maslow Hierarchy Needs | Theory X Theory Y | Competing Values Framework | Expectancy Theory | ERG Theory | Hofstede | What is Value Based Management? | Leadership Continuum