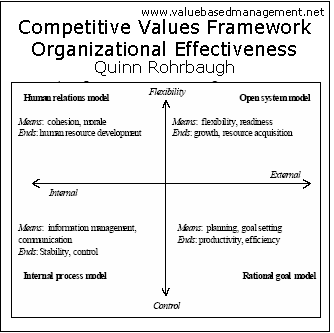 The Competing Values Framework of Quinn, Rohrbaugh is a theory that was developed initially from research conducted on the major indicators of effective organizations. Based on statistical analyses of a comprehensive list of effectiveness indicators, Quinn and Rohrbaugh (1983) discovered two major dimensions underlying conceptions of effectiveness.
The first dimension is related to organizational focus, from an internal emphasis on the well-being and development of people in the organization to an external focus on the well-being and development of the organization itself.
The second dimension differentiates organizational preference for structure and represents the contrast between stability and control and flexibility and change. Together the two dimensions form four quadrants.
The Competing Values Framework got its name because the criteria within the four models at first seem to carry conflicting messages. Organizations must be adaptable and flexible, but we also want them to be stable and controlled at the same time. A paradox.

Each quadrant of the framework represents one of four major models of organization and management theory (Quinn 1988):
1. Human Relations Model: places a great deal on emphasis on flexibility and internal focus, and stresses cohesion, morale, and human resources development as criteria for effectiveness.
2. Open Systems Model emphasizes flexibility and external focus, and stresses readiness, growth, resource acquisition and external support.
3. Rational Goal Model: emphasizes control and an external focus, and views planning, goal setting, productivity and efficiency as effective.
4. Internal Process Model: emphasizes control and an internal focus, and stresses the role of information management, communication, stability and control.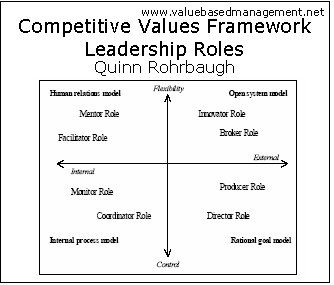 Another variant of the Competing Values Framework deals with leadership.
Quinn uses his competing values framework of organizational effectiveness to organize the literature on leadership. Eight categories of leader behavior, or roles, emerge from his review of the literature. The figure on the left plots these eight roles onto the existing framework.
The resulting model of leadership was derived theoretically and represents "a hypothetical rather than an empirical statement about the perceptual understructure of leadership".
Quinn argues that more effective managers have the ability to play multiple, even competing leadership roles. Managers are expected to play all of these roles and to simultaneously consider and balance the competing demands that are represented by each set of expectations.
The competing value framework can be used in organizational context. It can be used as a strategic tool to develop supervision and management programs. It can also be used to help organizations diagnose their existing and desired cultures. Furthermore, it can be seen a tool to examine organizational gaps. Another function might be to use it as a teaching tool for practicing managers or to help interpret and understand various organizational functions and processes. Another application is to help organizational members better understand the similarities and differences of managerial leadership roles.
T I P : Here you can discuss and learn a lot more about competing values.
Compare with Competing Values Framework: Leadership Continuum | Emotional Intelligence | Framing | Groupthink | Path-Goal Theory | Theory X Theory Y | Expectancy Theory | Herzberg Two Factor Theory | Leadership Styles | Results-Based Leadership | Spiral Dynamics