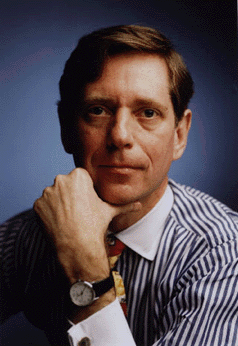 About Thomas Stewart: biography / resume / curriculum vitae
Thomas A. Stewart is a member of the Board of Editors of Fortune magazine, where his monthly column "The Leading Edge," is read by 870,000 readers. Stewart pioneered the field of intellectual capital in a series of landmark Fortune articles that have earned him an international reputation as the leading expert on the subject. In 1994, the Planning Forum called him "the leading proponent of knowledge management in the business press" and in 1996 he received the International Knowledge Management Awareness Award, presented at the International Knowledge Management Conference in London. His book Intellectual Capital: The New Wealth of Organizations was published by Currency Doubleday in 1997.

For Fortune, he has written on a wide range of management subjects--from productivity to stock options, from the management of churches to the failings of human resources departments. In addition to his extensive writing about intellectual capital, he has explored emerging electronic marketplaces, the influence of networks on business, and the economic and management implications of the Information Age in cover stories such as "Managing in a Wired World" and "Managing in an Era of Change." He is the author of cover stories on General Electric, the Gulf War, the changing nature of executive power, the state of American competitiveness, business process reengineering, and gay and lesbian executives, and helped to coordinate and chiefly wrote a cover package on the ideas that are fundamentally driving business in the Nineties. Richard Koppes, chief counsel of the California Public Employees' Retirement System (CALPERS), said that his cover story "The King Is Dead" is "the most complete and readable account of the 'corporate governance movement' that I have read to date." In 1993, The Journal of Financial Reporting named Mr. Stewart to its "Blue-Chip Newsroom" of best business journalists.

Stewart joined Fortune in 1989, following an eighteen-year career in book publishing, during which he held editorial and managerial positions, including the presidency of Atheneum Publishers. A 1970 graduate of Harvard College (summa cum laude in English literature), he lives in New York with his wife and two children. He is available for speeches about intellectual capital and other subjects.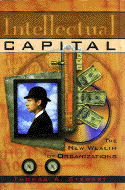 About the book: Intellectual Capital
Knowledge has become an important factor in economic life. It is a chief ingredient of what we buy and sell, the raw material with which we work. Intellectual capital--not natural resources, machinery, or even financial capital--has become an indispensable asset of corporations.
Intellectual Capital offers powerful ways of looking at what companies do and how to lead them. It shows how to turn the untapped, unmapped knowledge of an organization into its greatest competitive weapon.

Intellectual Capital cuts through the vague rhetoric of "paradigm shifts" to show how the Information Age economy really works--and how to make it work for you and your business. Readers will learn how to discover and map the human, structural, and customer capital that embody the knowledge assets of a corporation; how successful companies manage their intellectual capital to improve performance; how intellectual capital can free-up financial resources to dramatically increase profitability; why the rise of the "knowledge worker" leads to new principles of managing people; how the knowledge economy affects each of us personally in our careers and how to capitalize on the opportunities it presents.

Intellectual Capital is recommended for people who are relatively new toward the concept of intellectual capital.