VBM Thought Leader: Peter F. Drucker biography
Managing for Results - Economic Tasks and Risk-taking Decisions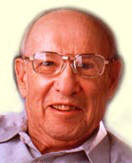 About Peter Drucker: biography / resume / curriculum vitae
Peter Drucker was born in 1909 in Vienna and was educated there and in England. He receives his doctorate in public and international law while working as a newspaper reporter in Frankfurt, Germany, and then works as an economist for an international bank in London. At the age of 29, in 1937, he moves to the United States. Drucker's management books and analyses of economics and society are widely read and respected throughout the world and have been translated into more than 20 languages. He also has written a lively autobiography, two novels, and several volumes of essays. Peter Drucker has been a frequent contributor to various magazines and journals over the years and is an editorial columnist for The Wall Street Journal. Peter Drucker died on November 11th, 2005.

Peter Drucker is a writer, teacher, and consultant specializing in strategy and policy for businesses and social sector organizations. He has consulted with many of the world's largest corporations as well as with nonprofit organizations, small and entrepreneurial companies, and with agencies of the U.S. government. He has also worked with free-world governments such as those of Canada, Japan, and Mexico. Peter Drucker is the author of thirty-one books, including 'Managing for Results', which have been translated into more than twenty languages. Thirteen books deal with society, economics, and politics; fifteen deal with management. Two of his books are novels, one is autobiographical, and he is a co-author of a book on Japanese painting. He has made four series of educational films based on his management books. Drucker has been an editorial columnist for the Wall Street Journal and a frequent contributor to the Harvard Business Review and other periodicals.

Drucker began his teaching career as professor of politics and philosophy at Bennington College; for more than twenty years he was professor of management at the Graduate Business School of New York University. The recipient of many awards and honorary degrees, Peter Drucker has, since 1971, been Clarke Professor of Social Sciences at Claremont Graduate University. Its Graduate Management School was named after him in 1984.

Peter Drucker has been hailed in the United States and abroad as the seminal thinker, writer, and lecturer on the contemporary organization. In 1997, he was featured on the cover of Forbes magazine under the headline, "Still the Youngest Mind," and BusinessWeek has called him "the most enduring management thinker of our time."

Mr. Drucker has received honorary doctorates from universities around the world. He is Honorary Chairman of the Leader to Leader Institute. He is married and has four children and six grandchildren. A hiker and student of Japan and Japanese art, Peter lives with his wife, Doris, in Claremont, California.

Managing for results
The effective business, Drucker observes, focuses on opportunities rather than problems. How this focus is achieved in order to make the organization prosper and grow is the subject of this companion to his classic, The Practice of Management. The earlier book was chiefly concerned with how management functions; this volume shows what the executive decision-maker must do to move his enterprise forward.
One of the notable accomplishments of Managing for Results is its combining specific economic analysis with a grasp of the entrepreneurial force in business prosperity. For though it discusses "what to do" more than Drucker's previous works, the book stresses the qualitative aspect of enterprise: every successful business requires a goal and spirit all its own. Drucker again employs his particular genius for breaking through conventional outlooks and opening up new perspectives--for profits and growth.

This is Value Based Management 'avant la lettre' (1964), Managing for Results is already linking business as an economic institution measured by economic results and business as a human organization.
Managing for Results is special by its applicability across businesses and time. The focus of the book is to explain the economic realities behind business decisions and explain how to go about systematically analyzing your business result areas, the inferences to draw upon, and the strategies to plan and implement.
The real force of this book of Peter Drucker becomes apparent by the very applicability of it in today's scenario of great economic and social change. Concepts like the result areas of business, and managing knowledge as the only crucial economic resource of an organization are still highly relevant today.