Formula?
Responses are matched to objective financial measures, including market value, three- and five-year total returns to shareholders (TRS), and Tobin's Q, an economist's ratio that measures an organization's ability to create value beyond its physical assets. Publicly available data from Standard and Poor's Compustat database were used to access the financial information needed.
To investigate the relationship between human capital practices and value creation, a series of multiple regression analyses were conducted, identifying a clear relationship between the effectiveness of a company's human capital practices and shareholder value creation. Thirty key HR practices were associated with a 30 percent increase in market value. Summary Human Capital Index (HCI) scores were created for individual organizations so that results could be expressed on a scale of 0 to 100. An HCI score of 0 represents the poorest human capital management, while a score of 100 is ideal.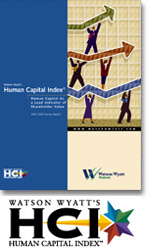 The Human Capital Index (HCI) is a methodology of Watson Wyatt used to calculate the correlation of human capital and shareholder value.
Watson Wyatt developed a set of measures quantifying exactly which HR practices and policies have the greatest correlation to shareholder value.
Using those to assign a single Human Capital Index (HCI) "score" to each surveyed company allows them to deliver conclusive, groundbreaking results: where there are superior HR practices, there is higher shareholder value.
In other words: the Human Capital Index shows that the better an organization is doing in managing its human capital, the better its returns for shareholders.
T I P : Here you can discuss and learn a lot more about human capital and value creation.
Category
Human Capital Value
Books
Kaplan, Norton, The Strategy- Focused Organization
Fogg, Implementing Your Strategic Plan
Risher, Aligning Pay and Results
Edvinsson, Corporate Longitude
Standfield, Intangible Management
Lev, Intangibles: Management, Measurement, and Reporting
Smith, Valuation of Intellectual Property and Intangible Assets
Kennedy, The End of Shareholder Value
Freeman, Corporate Strategy and the Search for Ethics