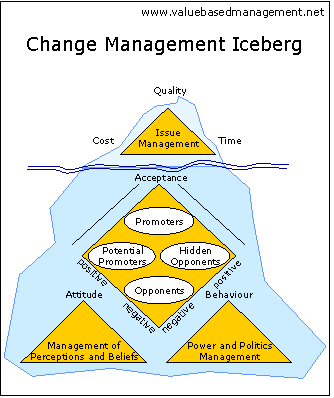 The Change Iceberg of Wilfried Krüger is a strong visualization of what is arguably the essence of change in organizations: dealing with barriers.
According to Krüger many change managers only consider the top of the iceberg: Cost, Quality and Time ("Issue Management").
However, below the surface of the water there are two more dimensions of Change (C) and Implementation Management:
- Management of Perceptions and Beliefs, and
- Power and Politics Management
What kind of barriers arise, and what kind of Implementation Management is consequently needed, depends on:
- The kind of C.
- hard things "only" (information systems, processes) just scratches the surface,
- soft things also (values, mindsets and capabilities) is much more profound
- The applied C strategy
- revolutionary, dramatic change as in Business Process Reengineering
- evolutionary, incremental change as in Kaizen

Below the surface of the iceberg:
- Opponents have both a negative general attitude towards C AND a negative behaviour towards this particular personal C. They need to be controlled by M. of Perceptions and Beliefs to change their minds as far as possible.
- Promoters on the other hand have both a positive generic attitude towards C AND are positive about this particular C for them personally. They take advantage of the C and will therefore support it.
- Hidden Opponents have a negative generic attitude towards C although they seem to be supporting the C on a superficial level ("Opportunists"). Here Management of Perceptions and Beliefs supported by information (Issue Management) is needed to change their attitude.
- Potential Promoters have a generic positive attitude towards C , however for certain reasons they are not convinced (yet) about this particular C. Power and Politics Management seems to be appropriate in this case.
According to Krüger dealing with C is a permanent task and challenge for general managers. Superficial Issue Management can only achieve results at a level consistent with the Acceptance that is below the surface. The base of the CM is rooted in both the interpersonal and behavioural dimension and the normative and cultural dimension, and is subject to Power and Politics Management and to the Management of Perceptions and Beliefs.
Book: Michael A. Beitler - Strategic Organizational C
Book: Linda Ackerman Anderson, Dean Anderson - The C Leader's Roadmap : How to Navigate Your Organization's Transformation
T I P : Here you can discuss and learn a lot more about Change Management.
Compare with Change Management: Change Model Beckhard | Changing Organization Cultures | Change Phases | Force Field Analysis | Core Groups | Bases of Social Power | Planned Behavior | History of VBM | Business Process Reengineering | Kaizen | Dimensions of Change | Seven Habits | Levels of Culture | RACI