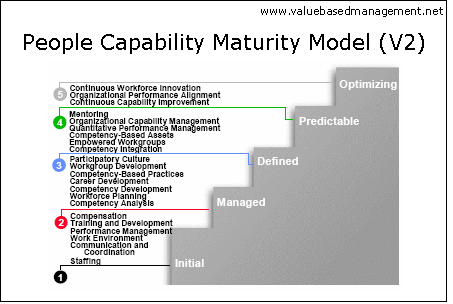 The People Capability Maturity Model (People CMM) framework maintained by the Carnegie Mellon SEI helps organizations in developing their workforce maturity and in addressing their critical people issues. Based on the best current practices in fields such as human resources, knowledge management, and organizational development, P-CMM guides organizations in improving their processes for managing and developing their workforces. P-CMM helps organizations characterize the maturity of their workforce practices, establish a program of continuous workforce development, set priorities for improvement actions, integrate workforce development with process improvement, and establish a culture of excellence.

People CMM provides a roadmap for implementing workforce practices that continuously improve the capability of an organizationís workforce. Since an organization cannot implement all of the best workforce practices in an afternoon, P-CMM takes a staged approach. Each progressive level of the P-CMM produces a unique transformation in the organizationís culture by equipping it with more powerful practices for attracting, developing, organizing, motivating, and retaining its workforce. Thus, P-CMM establishes an integrated system of workforce practices that matures through increasing alignment with the organizationís business objectives, performance, and changing needs.

The philosophy underlying People CMM is based on ten principles:

1. In mature organizations, workforce capability is directly related to business performance.
2. Workforce capability is a competitive issue and a source of strategic advantage.
3. Workforce capability must be defined in relation to the organizationís strategic business objectives.
4. Knowledge-intense work shifts the focus from job elements to workforce competencies.
5. Capability can be measured and improved at multiple levels, including individuals, workgroups, workforce competencies, and the organization.
6. An organization should invest in improving the capability of those workforce competencies that are critical to its core competency as a business.
7. Operational management is responsible for the capability of the workforce.
8. The improvement of workforce capability can be pursued as a process composed from proven practices and procedures.
9. The organization is responsible for providing improvement opportunities, while individuals are responsible for taking advantage of them.
10. Since technologies and organizational forms evolve rapidly, organizations must continually evolve their workforce practices and develop new workforce competencies.