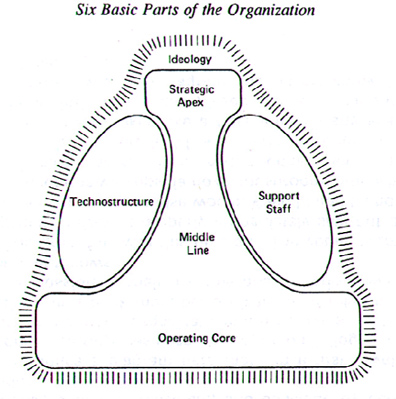 The organizational configurations framework of Mintzberg is a model that describes six valid organizational configurations:
1. entrepreneurial organization
2. machine organization
3. professional organization
4. diversified organization
5. innovative organization
6. missionary organization
and 7. political organization (= an organizational lacking a real coordinating mechanism)
According to the organizational configurations model of Mintzberg each organization can consist of a maximum of six basic parts:
1. Strategic Apex (top management)
2. Middle Line (middle management)
3. Operating Core (operations, operational processes)
4. Technostructure (analysts that design systems, processes, etc)
5. Support Staff (support outside of operating workflow)
6. Ideology (halo of beliefs and traditions; norms, values, culture)
According to the organizational configurations framework there are six valid coordinating mechanisms in organizations:
1. Direct supervision (typical for entrepreneurial organizations)
2. Standardization of work (typical for machine organizations)
3. Standardization of skills (typical for professional organizations)
4. Standardization of outputs (typical for diversified organizations)
5. Mutual Adjustment (typical for innovative organizations)
6. Standardization of norms (typical for missionary organizations)

T I P : Here you can discuss and learn a lot more about Organizational Configurations.
Compare with Mintzberg's Organizational Configurations: Competitive Advantage | Parenting Advantage | Parenting Styles | Core Competence | BCG Matrix | Bricks and Clicks | Greiner | Distinctive Capabilities | M&A | Strategic Alignment